Green Eggs And Ham
Green Eggs and Ham was one of my children's absolute favourite books when they were small.
We read it over and over again and laughed and laughed over the silliness of it and I'm convinced this played a big part in fostering their love of reading.
My three are all teenagers now but I still have our ragged, much-read copy of the book down in the store-room.
Green Eggs and Ham is a classic book which is now famous throughout the world as both a fun book to read and a book that helps children develop an awareness of how language works.
This awareness of the sounds that make up our language is a really important pre-reading skill. It's called phonological awareness and we know that, if it doesn't develop properly in the baby and pre-school years, kids struggle to learn to read later on.
This often leads to problems at school so it makes sense to encourage the development of phonological awareness by reading to children when they're young.
It's one of the books that I really think should be a part of every child's personal library. 
Green Eggs And Ham For All Ages
Dr Seuss's Green Eggs and Ham appeals to kiddos on many levels:
read it to your newborn baby and he or she will respond to the rhythm of the language and the sound of your voice;


you may find you'll put the book aside when your baby is about six months old but don't get rid of it!


your 2-year-old will be able to sit still and pay attention for a bit longer and he'll start to enjoy the silliness of the story and the funny rhymes;


by the time your child's three, he'll be starting to understand and appreciate the humour of the story. He'll also be able to finish some of the lines when you start them, which will make him feel clever and is also great for his language skills;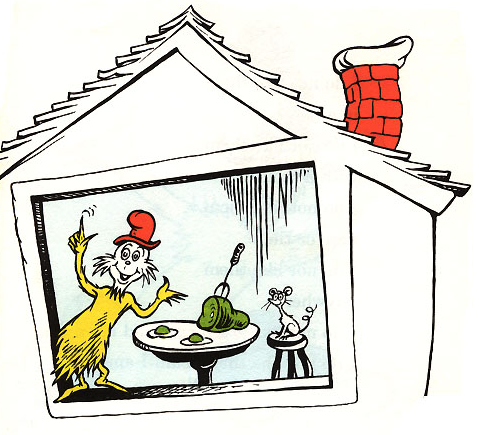 a 4- or 5-year-old who is familiar with Green Eggs and Ham will love to practice reading it and will gain loads of confidence when he realises he can read it all by himself. At first your child may be mostly repeating what he's memorised but don't discourage him! This is actually a really important part of learning to read. Gradually he'll start to recognise the words and, with your help, to see the patterns the letters make and to relate them to the sounds of the words he knows so well;
The History of Green Eggs And Ham
Green Eggs and Ham was first published on 12 August 1960 as one of Dr Seuss's Beginner Books. It was an instant hit with children and their parents, following on from the success of The Cat in The Hat which had come out in 1957.
As a result of The Cat in The Hat's success, Ted Geisel, his wife Helen and Phyllis Cerf, the wife of Bennett Cerf (Ted's publisher at Random House), had started a publishing company called Beginner Books. Ted wrote some of the books but the company also commissioned other authors to write books to Ted's strict guidelines. By 1960, Beginner Books was part-owned by Random House, its books were a huge success and Ted and his wife were very wealthy. 
The Cat in The Hat was written when Ted took up a bet that he would not be able to write a book using a vocabulary of only 225 words. As a private joke, Bennett Cerf later bet Ted fifty dollars that he couldn't write a book using only fifty different words. The result was Green Eggs and Ham. 

The book was first read aloud in April 1960 at a small dinner party held for a select group of Random House executives. According to Seuss's biography, "the room erupted with huzzahs and demands that he read it again". Bennett Cerf made a ceremony of conceding that Ted had won the fifty-dollar bet but Ted always said that his friend never actually paid him the fifty dollars!

You can read more about Green Eggs and Ham here. 


References:
Morgan, J; & Morgan, N. (1995). Dr Seuss & Mr Geisel. New York: Da Capo Press.