List of Dr Seuss Books
On this page you'll find a complete list of Dr Seuss books listed in the order in which they were originally published. These are the 45 books which were both written and illustrated by Dr Seuss himself.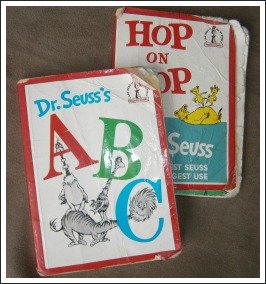 The lady at our local pharmacy gave these books to my twin sons when they were about 10 months old. They're cute little mini versions of the books and, as you can see, they've been well-loved (and well-chewed!)
You might read elsewhere that Dr Seuss wrote more books than the ones on this list. That's true but the other books he wrote were illustrated by other people so I haven't included those on this list.
Dr Seuss books are great fun to share with your child and, as a bonus, they'll also help him develop something called phonological awareness, a critical skill for learning to read later on. This is because the rhythm and the rhyme build connections in children's brains in a way that other types of language don't.

Book shops and libraries will have at least a few of the books on this list but if you'd like to buy one, my favourite place to buy books these days is the Book Depository. Great prices and postage is free!


The Complete List of Dr Seuss Books
Dr Seuss, whose real name was Ted Geisel, died in 1991. The following books were published after his death: 

Daisy-Head Mayzie (1994) and Hooray For Diffendoofer Day! (1998) were written after Ted's death, based on his sketches and notes. 

My Many Colored Days (1996) was written by Dr Seuss in 1973, well before he died, but was published for the first time after his death. Ted had cancer and knew he was dying. According to his biography, he intended this book to be his farewell offering.