You are here:  home / books for babies

Books for Babies
Choosing books for babies can be confusing, especially if you're a new parent.
There are hundreds of picture books for little ones in print but I discovered when my sons were small that many are poorly written and/or just not very interesting, either for the babies themselves or for the adults who read them.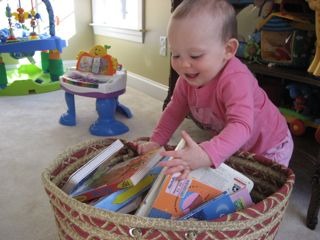 So you know that reading to your little one is important but how do you choose great books for babies which will be fun to read and good for their development?
And where do you buy books for babies? Sadly, many independent book shops have closed over the past few years and shops like K-Mart and Big W stock a very small and not-all-that-great range of books for little ones. Online retailers are fantastic but it helps to know which books you're looking for.

That's where Best Books for Kids comes in!

Getting kids interested in books has been an interest of mine since my children were small so on this page you'll find some tips about what to look for and where to find books for babies aged up to about 18 months.
I've also put together this list of the Top 10 Very Best Books for Babies. 
These books are a great place to begin if you're just starting to read to your baby. They're guaranteed to delight you both and to encourage your little one to love reading.
If you read them regularly and in the right way you'll be laying the foundations for your child to learn to read easily, naturally and probably at an earlier age than you'd expect. Don't believe me? I've seen it happen with my own three children and with my five nephews.

Choosing Books For Babies
Try to share a variety of books with your baby as he grows. When he's very little, a few well-chosen books are probably enough but keep a look out for new books when you're out and about so that you can add to your baby's library as he grows.
If you're buying a gift for a new baby, a gift basket of beautiful books is a great idea. Read how to make your own here. You can also check out the book gift baskets I make and sell here.

Here are four things to remember when you're choosing books for babies:
1. The three Rs: rhyme, rhythmic language and repetition
Babies of all ages (even newborns) love books that feature this kind of language and it's actually really important that they hear it as it helps them develop phonological awareness, an important skill for learning to read. This is why nursery rhymes and poems are great for to share with babies and why so many books for small children - like the gorgeous Hairy MacLary books - are written in rhyme. Same goes for the Dr Seuss books. Those silly rhymes are not an accident. They actually help children develop an understanding of how language works.

2. Books with pictures of the things children see every day
Things like toys, cars, people and animals are always winners with babies of this age. My twin sons' favourite book was a board book with photos of babies, each holding a different toy. My boys loved looking at the babies' faces. Also try The Very Hungry Caterpillar for starters.
3. Board books
Because they stand up to lots of handling and chewing!

4. Books that have something for your baby to do
Think textures to stroke or a flap to lift. These are great fun for clever babies. Fuzzy Yellow Ducklings and Where's Spot? are brilliant choices.

Babies also love:
picture books about animals
Australian-themed picture books
1-2-3 books
board books
bedtime stories about going to bed
nursery rhymes
Where To Find Books For Babies
If you're looking for books for a baby or toddler, try these:
1. your local library. Usually a great range and it's free!
2. department stores and variety stores. Convenient and the books are often cheap but the range is often limited and the staff may not be very knowledgeable.
3. independent bookshops or specialist children's bookshops. The staff are knowledgeable and helpful but the books can be expensive.
4. online book stores. You have to wait a few days for your books but they usually have a wide range at cheap prices and shopping online is, of course, very convenient. Plus the Book Depository offers free postage anywhere in the world!
5. Op shops and charity shops. For only a few dollars you can pick up a stack of books and feel good about doing it - after all, you're making a donation to charity and you're recycling. The books may be a bit the worse for wear but who cares? - certainly your baby won't and you don't have to worry if he or she rips a page of chews off a corner of the book!