Hairy MacLary



The Hairy Maclary books are a series of beautiful picture books for kids written by a New Zealander, Lynley Dodd.
With their fun, mischievous illustrations and bouncy rhymes, the Hairy Maclary books are firm favourites for reading aloud. Children love them but they're also fun for parents and carers to read. So much so that these books have pretty much become modern classics for children in Australia and New Zealand.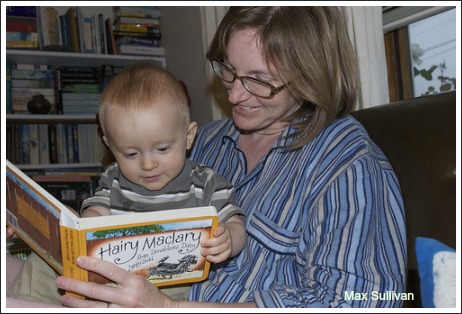 Sharing the Hairy MacLary stories with your children is great fun but did you know that it also helps your child learn important pre-reading skills? This is because the rhyme and rhythmic language in the stories help to stimulate phonological awareness while the words help to build your child's vocabulary.
And the really great thing about all this is that it happens unconsciously.
You don't need to actively teach your child anything. All you have to do is read and talk about the story together. How great is that!
The Hairy MacLary books were huge favourites with my three children and I still have the dog-eared, very well-loved copies to prove it! Not to mention the fact that I can still recite large chunks of the stories by heart!
The books are written in rhyme and follow the adventures of mischievous Hairy Maclary and his doggy friends, including Schnitzel von Krumm, Bottomley Potts and Muffin McClay.
The series began with the 1983 publication of Hairy Maclary from Donaldson's Dairy, still my very favourite book of all.
The Hairy MacLary Books

Here is the list of the nineteen books in the series: 
Hairy Maclary from Donaldson's Dairy (1983) 
Hairy Maclary's Bone (1984) 
Hairy Maclary Scattercat (1985) 
Hairy Maclary's Caterwaul Caper (1987) 
Hairy Maclary's Rumpus at the Vet (1989) 
Slinky Malinki (1990) 
Hairy Maclary's Showbusiness (1991) 
Slinky Malinki Open The Door (1993) 
Schnitzel von Krumm's Basketwork (1994) 
Schnitzel von Krumm Forget-Me-Not (1996) 
Slinky Malinki Catflaps (1998) 
Hairy Maclary, Sit (1997) 
Hairy Maclary and Zachary Quack (1999) 
Scarface Claw (2001) 
Schnitzel von Krumm, Dogs Never Climb Trees (2002) 
Zachary Quack Minimonster (2005) 
Slinky Malinki's Christmas Crackers (2006) 
Hairy Maclary's Hat Tricks (2007) 
Hairy Maclary, Shoo (2009) 
About The Author: Lynley Dodd
Lynley Dodd was born in Rotorua in New Zealand on 5 July 1941.
She graduated from the Elam School of Art in Auckland with a diploma in Fine Arts, majoring in sculpture and went on to teach art before taking a break to start a family. Lynley later did some work as a freelance illustrator and collaborated with author Eve Sutton on My Cat Likes To Hide in Boxes before going on to write and illustrate her own books for children.
As a child, Lynley adored Dr Seuss because of his "crazy sounds and the fact that he took such liberties with the English language." Her other favourite authors included A A Milne and the fairy tales of The Grimm Brothers and Hans Christian Andersen.
Today, Lynley lives in Tauranga on New Zealand's North Island.