Dr Seuss Activities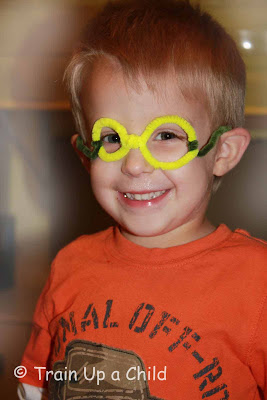 The Dr Seuss activities on this page are a great way of continuing the fun of reading your favourite Dr Seuss books with your child.
Some of the ideas are my own but most I've borrowed from the clever people who've been kind enough to share them on the internet. Not only are these activities fun, they also help consolidate and extend your child's learning.
So begin by reading one of the Dr Seuss books together. Have fun with it, with lots of laughter and silliness. Then, check out some of these activities and get going on them with your child.

Enjoy!
---
1. The Foot Book
Here are some ideas which begin with drawing around your child's feet and cutting out the shapes. This works especially well if you have more than one child because it's fun (and educational) to compare the sizes of everyone's feet. Compare Mum's foot with Dad's and with each child's. If you have a baby, your older child will love drawing around bub's foot too!
For pre-schoolers and five-year-olds, this involves lots of fun fine-motor activity, plus lots of maths. The maths comes in as you measure and compare your cut-outs. Have fun finding different things to use for measurement, as well as using a ruler.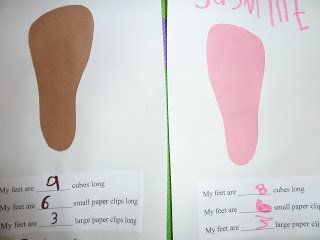 http://www.momto2poshlildivas.com
For example, your child's foot might measure three of his toy cars long. Teachers call this iteration and it's a really important maths skill.
You'll find another fun idea involving gross motor activities here.
The Foot Book is also great for talking about opposites and, of course, the idea of left and right.
---
2. The Lorax
One of the best activities to do with The Lorax is to read the book together outside. So first, go into the garden or to a park and get comfy under a tree. Before you start reading, talk about all the things you can see: leaves, grass, trees and so on. Talk about what you can feel and hear too: the breeze against your face, the sun, birds, perhaps a lawn-mower. This builds awareness of the natural environment and helps children build connections with the story.
---
3. I Can Read With My Eyes Shut
I really love this mum's idea of making reading glasses for her gorgeous boys out of pipe cleaners (chenille sticks). It's a cheap, quick, fun and very creative idea with lots of room for creativity and fine-motor skills practice. And, of course, children love them.
This idea is also fantastic to do with students if you're a pre-school or Kindergarten teacher.

---
4. Green Eggs and Ham
Making green scrambled eggs is really easy. Mix in a drop or two of green food colouring when you're scrambling the eggs and then cook them. Children love having green eggs and ham for lunch and you can talk about why the green eggs look weird and how you feel about eating them. It's also a good opportunity to discuss trying new things that may seem unappealing, why we do/don't want to try new things and what the benefits can be.
I made green eggs and ham with my children when they were small and they literally jiggled with excitement during the whole process.

They were absolutely fascinated when I put the food colouring in, of course and wanted to "do it again" after we'd eaten the eggs.
So we went on to make Oobleck (see below) which involved lots of different colours (and lots of mess!) and they were in heaven.
These are the kinds of experiences children remember long after they've grown up. They are sooo worth doing, even with all the mess!

---
5. Bartholomew and the Oobleck
The king orders something extra-special from his royal magicians and gets some ooey-gooey green oobleck!
Oobleck is really easy to make and kids love playing with it so why not get organised for a messy afternoon and make some oobleck?
When my sons were small, I kept these types of activities for summer days, put the boys in their swim suits or undies and let them make as much mess as they liked. It's definitely worth the clean-up afterwards to see how much fun they have with activities like this.
As well as being fun, making and playing with Oobleck is a great opportunity to talk about solids and liquids, Non-Newtonian fluids, viscosity and all sorts of interesting concepts.
Click here to learn how to make your own Oobleck.
---
Write Your Own Dr Seuss Story
This idea comes from my clever sister, Michelle, who lives in New Zealand and has three gorgeous boys of her own now. But back in the 1990s when she was yet to become a mum, Mich wrote a story for each of my boys who were then only two. The little books were written in the Dr Seuss style - iambic tetrameter - and illustrated with photos.
Here's a bit from a book she made for my son, James:
Today I went to visit James
We played with toys we played good games.
We played in the sandpit and buried the truck
Then we dug with the spade, dug the whole sandpit up!
Now, my sister is very clever but writing like this is loads of fun and it's a great activity to do with kids. Just brainstorm some ideas together and get writing!