Banjo Paterson
You are here:  home / Banjo Paterson

Banjo Paterson is one of our most famous Australians and probably Australia's best-known and most-loved poet.
Paterson wrote poems about the Australian bush that are not only part of the Australian culture but have played a huge part in defining it. 
Because of this, I'm really in favour of introducing kids to the poetry of Banjo Paterson.
They don't have to study the poems in depth but I think it's great to read them aloud and to talk about them.
The stories told in the poems are brilliant and often very funny, especially for kids from about the age of eight.
The words Paterson uses and the way he weaves them together to create those wonderful rhythms and rhymes are great for kids to hear because, like all good poetry, they help stimulate phonological awareness which is a really important pre-reading skill.
OK, so some of the language Banjo Paterson uses is a bit old-fashioned and will probably need to be explained to our children of the 21st century.
But it's great for kids to hear this sort of language and it helps widen their vocabularies and build their background knowledge. 
In fact, each of Banjo Paterson's poems is a history lesson in itself because they speak of a time long gone, when life in Australia was quite different to the way it is today.
Banjo Paterson wrote many poems but the ones I like the best and the ones I think are probably most fun to share with kids are:
A Bush Christening 
Clancy of the Overflow 
Mulga Bill's Bicycle 
The Man from Ironbark 
The Man from Snowy River 
Waltzing Matilda


About Banjo Paterson
Andrew Barton Paterson was born on 17 February 1864 at Narrambla, near Orange, in New South Wales. His father, Andrew, was Scottish but his mother, Rose Barton, had been born at Boree Nyrang station, which is also near Orange.
Andrew was a grazier and when Barty (as he was known to his family and friends) was seven, the family moved to Illalong in the Yass area where the Paterson children enjoyed a typical bush childhood of the time. The family lived near the main route between Sydney and Melbourne Barty and his brothers and sisters were familiar with the the exciting traffic of bullock teams, Cobb & Co coaches, drovers with their mobs of stock and gold escorts.
Picnic race meetings and polo matches were also a part of life, with their exciting displays of horsemanship by the horsemen from the Murrumbidgee and Snowy Mountains country.
For a while, Barty was educated at home by a governess but, once he was able to ride a pony, he started going to the bush school at Binalong. In 1874 he was sent to Sydney Grammar School, then went on to study law. He was admitted as a solicitor in 1886 and practised law in Sydney for the next ten years. 


Early Writing
During his school days in Sydney, Paterson lived in Gladesville with his widowed grandmother who enjoyed reading and encouraged his love of poetry.
He began writing and submitting poems to the Bulletin when still a law student and had his first poem published in February 1885, using the pen-name 'The Banjo' which was the name of a racehorse owned by his family.
Over the next ten years, Paterson continued to write for the Bulletin and became friends with many authors, including Henry Lawson, who he helped to draw up contracts with his publishers. The two men also had a friendly rhyming battle in the Bulletin over the good and bad aspects of bush life.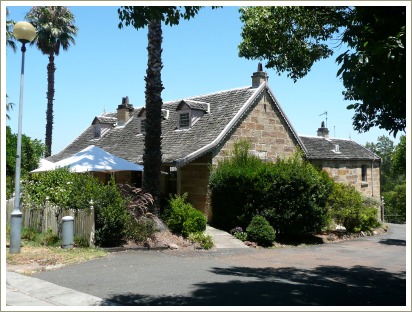 The house where Banjo Paterson lived with his grandmother while he was at school in Sydney. Originally called 'Rockend' it's now a restaurant called 'Banjo Paterson Cottage.'
Becoming Famous
By 1895 Paterson's ballads like Clancy of the Overflow and The Man from Ironbark were so popular with readers that Angus & Robertson, published a collection called The Man From Snowy River and Other Verses. 

The Man from Snowy River had swept the colonies when it was first published in April 1890 and the new book of collected verses sold out in the week it was published. The book is still in print today.
The book was popular in England as well and Paterson was compared in the English newspapers with Rudyard Kipling. 

The publication of the book meant that Andrew Barton Paterson was revealed as being 'The Banjo' and he became a national celebrity overnight.
While on holiday in Queensland late in 1895, Paterson stayed with friends at Dagworth station, near Winton, were he wrote Waltzing Matilda which was to become Australia's best-known folk song. 
Journalist & War Correspondent
Over the next few years, Paterson travelled widely through the Northern Territory and other parts of Australia, writing of his experiences in prose and verse for various newspapers and journals.
When the Boer War broke out, he was employed by the Sydney Morning Herald and the Melbourne Age as their war correspondent. He sailed for South Africa in 1899 and spent a year the thick of the fighting, becoming well-known in England and in Australia for the quality of his reporting.
After returning to Australia, he travelled to China and later to England as a roving correspondent for the Sydney Morning Herald and at one stage was a guest of Rudyard Kipling at his home in Sussex.
By 1902 Paterson was back in Sydney and had decided to abandon his legal practice.
In 1903 he was appointed editor of the Sydney Evening News and married Alice Walker. The couple settled at Woollahra in Sydney and had a daughter, Grace, in 1904 and a son, Hugh, in 1906.
Paterson resigned as editor of the Sydney Evening News in 1908 because he was keen to return to the country. He took over a 40,000-acre property called Coodra Vale, near Wee Jasper, but was unable to make it financially successful.
When World War I broke out, he sailed for England where he served in various roles in France and the Middle East.
After the War
After the war, Banjo Paterson again worked as a journalist in Sydney but retired from full-time work in 1930 to spend time on his creative writing.
He did, however, continue to write for the Sydney Morning Herald and became a successful broadcaster with the Australian Broadcasting Commission, speaking about his travels and experiences.
By this stage he was a famous and respected citizen in Sydney.
In 1923 most of his poems had been assembled in a book of Collected Verse which was instantly popular and has since been reprinted many times. It's still in print today.
In 1939, Andrew Barton Paterson was appointed CBE (Commander of the Order of the British Empire). He died, after a short illness, on 5 February 1941 and was cremated according to the rites of the Presbyterian church.
His wife and children survived him.
The Legacy of Banjo Paterson
As well as being a writer and a lawyer, Banjo Paterson was a horseman, bushman, overlander and squatter.
During his lifetime he was a living part of the Australian legend and, by writing about the places and people he knew and loved, he helped to recreate it for the rest of us.
What's interesting is that Banjo Paterson came from a family who'd worked hard for what they had but who were nevertheless a prosperous, landowning family yet he was able to write so authentically about the families who lived isolated lives in the harsh Australian bush.
I guess the key was that Paterson had grown up in the bush and retained his love for it throughout his life. He had great memories of his childhood in the bush and of the people he'd known and also travelled widely in the outback as an adult.
This gave him the ability to see life through their eyes: through the eyes of an Irish mother living in the bush in A Bush Christening, through the eyes of a drover in Clancy of the Overflow and through the eyes of a swagman in Waltzing Matilda. 

On the night of Paterson's death, a fellow writer and journalist named Vance Palmer broadcasted this tribute which probably sums up the legacy Banjo Paterson left to the country he loved: 

"He laid hold both of our affections and imaginations; he made himself a vital part of the country we all know and love, and it would not only have been a poorer country but one far less united in bonds of intimate feeling, if he had never lived and written".