Robert Louis Stevenson Poems For Kids
On this page you'll find my favourite Robert Louis Stevenson poems for kids. 

Robert Louis Stevenson was a Scottish author, traveller and painter who wrote adventure novels, essays and travel stories during the late 1800s.
He wrote some wonderful stories for older children and for adults but is most famous for a book of poems for children called A Child's Garden of Verse, which first appeared in 1885.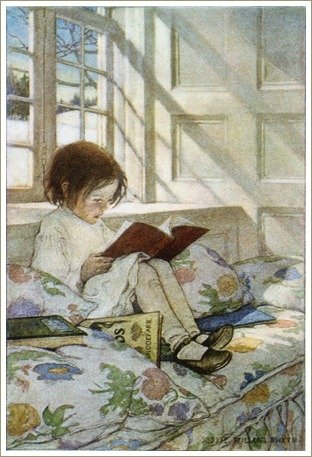 The cover illustration of the original 1885 edition of A Child's Garden of Verse, drawn by Jesse Wilcox
Unusually, the book has been pretty much continuously in print ever since.
I have lovely memories of my mother reading this book of Robert Louis Stevenson poems to me when I was small and the poems on this page are my absolute favourites.
When my twin sons were born in 1995, I bought a new copy of the book and really enjoyed sharing the poems with them.
It's a great idea to start reading these poems to your children from birth because the gentle rhythm is very soothing for a new little person who is, after all, getting used to a whole new world.
Reading poems like these in a slow, calm voice is a lovely bonding activity and will often calm a restless baby. 

As a bonus, reading poems like these to babies and young children stimulates the development of phonological awareness, an important pre-reading skill.
It also exposes your child to words and phrases he might not hear anywhere else.
This will help his language skills, even if he's still a very young baby, because it helps build brain connections. 
Robert Louis Stevenson Poems for Kids
My Shadow
I have a little shadow that goes in and out with me, 
And what can be the use of him is more than I can see. 
He is very, very like me from the heels up to the head; 
And I see him jump before me, when I jump into my bed. 

The funniest thing about him is the way he likes to grow - 
Not at all like proper children, which is always very slow; 
For he sometimes shoots up taller like an india-rubber ball, 
And he sometimes goes so little that there's none of him at all. 

He hasn't got a notion of how children ought to play, 
And can only make a fool of me in every sort of way. 
He stays so close behind me, he's a coward you can see; 
I'd think shame to stick to nursie as that shadow sticks to me! 

One morning, very early, before the sun was up, 
I rose and found the shining dew on every buttercup; 
But my lazy little shadow, like an arrant sleepy-head, 
Had stayed at home behind me and was fast asleep in bed. 



A Good Boy
I woke before the morning, I was happy all the day, 
I never said an ugly word, but smiled and stuck to play. 

And now at last the sun is going down behind the wood, 
And I am very happy, for I know that I've been good. 

My bed is waiting cool and fresh, with linen smooth and fair, 
And I must be off to sleepsin-by, and not forget my prayer. 

I know that, till to-morrow I shall see the sun arise, 
No ugly dream shall fright my mind, no ugly sight my eyes. 

But slumber hold me tightly till I waken in the dawn, 
And hear the thrushes singing in the lilacs round the lawn. 



Bed in Summer
In winter I get up at night 
And dress by yellow candle-light. 
In summer, quite the other way, 
I have to go to bed by day. 

I have to go to bed and see 
The birds still hopping on the tree, 
Or hear the grown-up people's feet 
Still going past me in the street. 

And does it not seem hard to you, 
When all the sky is clear and blue, 
And I should like so much to play, 
To have to go to bed by day? 



A Good Play
We built a ship upon the stairs 
All made of the back-bedroom chairs, 
And filled it full of soft pillows 
To go a-sailing on the billows. 

We took a saw and several nails, 
And water in the nursery pails; 
And Tom said, 'Let us also take 
An apple and a slice of cake';' 
Which was enough for Tom and me 
To go a-sailing on, till tea. 

We sailed along for days and days, 
And had the very best of plays; 
But Tom fell out and hurt his knee, 
So there was no one left but me. 



The Land of Counterpane
When I was sick and lay a-bed, 
I had two pillows at my head, 
And all my toys beside me lay, 
To keep me happy all the day. 

And sometimes for an hour or so 
I watched my leaden soldiers go, 
With different uniforms and drills, 
Among the bed-clothes, through the hills; 

And sometimes sent my ships in fleets 
All up and down among the sheets; 
Or brought my trees and houses out, 
And planted cities all about. 

I was the giant great and still 
That sits upon the pillow-hill, 
And sees before him, dale and plain, 
The pleasant land of counterpane. 



System
Every night my prayers I say, 
And get my dinner every day; 
And every day that I've been good, 
I get an orange after food. 

The child that is not clean and neat, 
With lots of toys and things to eat, 
He is a naughty child, I'm sure - 
Or else his dear papa is poor. 



The Cow
The friendly cow all red and white, 
I love with all my heart: 
She gives me cream with all her might, 
To eat with apple-tart. 

She wanders lowing here and there, 
And yet she cannot stray, 
All in the pleasant open air, 
The pleasant light of day; 

And blown by all the winds that pass 
And wet with all the showers, 
She walks among the meadow grass 
And eats the meadow flowers. 



The Swing
How do you like to go up in a swing, 
Up in the air so blue? 
Oh, I do think it the pleasantest thing 
Ever a child can do! 

Up in the air and over the wall, 
Till I can see so wide, 
River and trees and cattle and all 
Over the countryside - 

Till I look down on the garden green, 
Down on the roof so brown - 
Up in the air I go flying again, 
Up in the air and down!
home >>> Robert Louis Stevenson >>> Robert Louis Stevenson poems