You are here:  home / poetry for children / nonsense poems for kids
Nonsense Poems for Kids
Nonsense poems are great fun to share with kids but did you know they also help to develop vocabulary and phonological awareness skills? These skills are essential for learning to read so and sharing rhymes and poetry of all kinds with children is a great way to make sure your child develops them during the baby and pre-school years.
Nonsense poems are especially good for stimulating something called phonological awareness, a skill which develops naturally in children who are read to regularly from babyhood.
Sadly, many of the nonsense rhymes our parents and grandparents enjoyed are being forgotten as children spend more of their time in front of computer and TV screens. Many kids are just not listening to stories as much as children used to so they're missing out on a crucial part of childhood.
For all sorts of reasons I think this is a real shame so these pages are my attempt to do a little bit towards resurrecting nonsense verse for the children of today! 


What are nonsense poems?
Nonsense poems are a form of light, rhythmical verse, usually written for children. They often involve strange characters in weird and funny situations and use fanciful language and meaningless, made-up words.
The English language has a long tradition of nonsense poems, dating back at least to Anglo-Saxon times (the years 550-1066). In those days, they mainly took the form of riddles. 
Limericks were a later form of nonsense poems, although they were not, at first, called 'limericks.'
One of the earliest published examples of this kind of nonsense verse is a book by an English author and artist called Edward Lear. The book was called Anecdotes and Adventures of Fifteen Gentlemen and it was first published in 1821.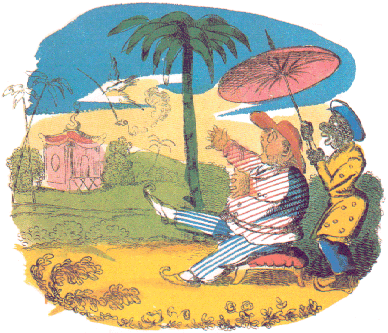 Anecdotes and Adventures of Fifteen Gentlemen contained a number of nonsense poems, the best-known of which is probably this one:
As a little fat man from Bombay 
was smoking one very hot day, 
a bird called a snipe 
flew away with his pipe, 
which vexed the fat man from Bombay.
When did limericks become popular?
In 1846, Edward Lear published a book of limericks called A Book of Nonsense which was so popular that two further editions were published. It's still in print today under the title Complete Nonsense. 

Lear didn't invent limericks but he's probably responsible for making them as popular as they are today. Unlike some modern limericks, early limericks, including Lear's, are almost all truly nonsensical in that they contain no point or message. They don't have punch lines and of course they're free of the dodgy humour we're used to in so many limericks today. 


Which authors wrote nonsense poems?
Lear is probably the best-known writer of nonsense poems, especially nonsense poems for children. In addition to a great many limericks, he also wrote a number of longer nonsense poems, including The Owl and the Pussycat which was published in 1871.
Other well-known writers of nonsense poems in the English language include:
To read more about phonological awareness - why it's important and how nonsense poems can help develop this critical skill click here.