Dr Seuss Quotes
On this page you'll find - just for fun! - my favourite Dr Seuss quotes.
Some of these quotes from Dr Seuss come from the books he wrote, others are from interviews or from his biography, Dr Seuss & Mr Geisel.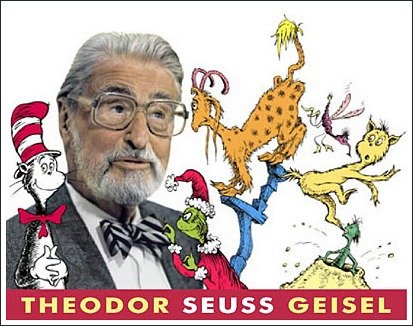 Children's author Dr Seuss - whose real name was Theodor Seuss Geisel - had a talent for expressing complex truths in simple verse. He often said that he made a point of not starting to write with a moral in mind, while at the same time acknowledging that 'there's an inherent moral in any story'.
Many of Dr Seuss's books for children are thought to express his views on a variety of social and political issues.
Of course, kids don't care about political issues or hidden messages but for we adults it can be fun to think about the messages behind some of the verses.
So here, without further ado, are my favourite quotes from Dr Seuss! 
Fun Dr Seuss Quotes
'You have brains in your head. 
You have feet in your shoes. 
You can steer yourself 
any direction you choose.'
- Oh, The Places You'll Go! 

'Today you are you, 
that is truer than true. 
There is no-one alive 
who is you-er than YOU.'
- Happy Birthday to You
'We are all a little bit weird and the world is a little bit weird, and when we find someone whose weirdness is compatible with ours we fall in mutual weirdness and call it love.' 

'So be sure when you step. 
Step with care and great tact 
and remember that Life's 
a Great Balancing Act.'
- Oh, The Places You'll Go!
'You're off to Great Places! 
Today is your day! 
Your mountain is waiting. 
So … get on your way!'
- Oh, The Places You'll Go! 

'A person's a person, no matter how small!'
- Horton Hears a Who 
'I know it is wet 
And the sun is not sunny. 
But we can have 
Lots of good fun that is funny!'
- The Cat in the Hat 
'Today was good. Today was fun. Tomorrow is another one.' 

'The more that you read, the more things you will know. The more that you learn, the more places you'll go.' 

'I have heard there are troubles of more than one kind. 
Some come from ahead and some come from behind. 
But I've bought a big bat. I'm all ready you see. 
Now my troubles are going to have troubles with me!' 
'Sometimes the questions are complicated and the answers are simple.' 

'Some days are yellow. Some are blue. 
On different days I'm different too.' 
- My Many Coloured Days 
'Don't cry because it's over. Smile because it happened.' 

'A person's a person, no matter how small!'
- Horton Hears a Who 
'You can find magic wherever you look. Sit back and relax, all you need is a book.'


'From there to here from here to there, funny things are everywhere!'

'Sometimes you will never know the value of a moment until it becomes a memory.'

'Why fit in when you were born to stand out?'

'Be who you are and say what you feel because those who mind don't matter and those who matter don't mind.'