Robert Louis Stevenson Biography
This Robert Louis Stevenson biography is about the life of the English author and poet who wrote books like Kidnapped, Treasure Island and A Child's Garden of Verses.


His books are classics and are great to read to children because the language and imagery in his poems and Stevenson's gift for telling an exciting story make them a joy to read and to listen to.
Robert Louis Stevenson led an adventurous life and his experiences helped inspire his writing which is why I've included this biography.
He was also a thoughtful, insightful man who has been widely quoted in the 100+ years since he died.
Read my favourite Robert Louis Stevenson quotes here.

Robert Louis Stevenson, aged 7

A Robert Louis Stevenson Biography
Robert Louis Stevenson was actually born Robert Lewis Balfour Stevenson on 13 November 1850 in Edinburgh in Scotland.
He was the only child of Thomas Stevenson, a quite well-to-do lighthouse engineer, and his wife Margaret.
Like his mother, Robert Louis Stevenson suffered from what people in those days called a "weak chest". He was often ill and his nurse Alison Cunningham – 'Cummy' – cared for him and told him stories from the Bible and Scottish history.
The time he spent in bed while he was ill would later inspire poems like The Land of Counterpane and the Scottish stories would inspire him to write novels like Kidnapped!

Because of his illness, young Robert (his nurse called him 'Lew') missed a lot of school and was sometimes taught at home by a tutor.
He was an only child and later said:
"I have three powerful impressions of childhood: my sufferings when I was sick, my delights in convalescence at my grandfather's manse of Colinton, near Edinburgh, and the unnatural activity of my mind after I was in bed at night."


The Young Man
As a young man, Robert Louis Stevenson was a bit of a rebel. He changed the spelling of his name from 'Lewis' to the French form 'Louis' and took to wearing a velvet coat as he explored Edinburgh.
Most of the men in Stevenson's family were engineers but his own health meant that Robert never seriously considered entering the family firm. He went to university and qualified as an lawyer but never practised law.
He commented:
"All through my boyhood and youth, I was known and pointed out for the pattern of an idler; and yet I was always busy on my own private end, which was to learn to write ... indeed I had already my own private determination to be an author ... I loved the art of words."


Travels
Living in Edinburgh was not good for Stevenson's health so he began to travel, firstly in France. He loved travelling and published accounts of his journeys as well as using the places he visited as settings for his novels.
In France he met his future wife, Fanny Vandegrift Osbourne, an American who had travelled to France with her two children to escape an unhappy marriage.
In 1878 Fanny returned to the United States and Stevenson followed her in 1879. But Fanny had returned to her husband so Stevenson spent some time alone in California where we became very ill and for a while was close to death. Fanny and her husband eventually separated and she and Stevenson married in 1880 and returned to Scotland.
Between 1880 and 1887, Robert and his family travelled around Scotland, England and France in search of a climate that would suit his health.
Although he was often ill, he produced most of his best-known work during these years: Treasure Island, Kidnapped The Strange Case of Dr Jekyll and Mr Hyde and his famous book of poems for children A Child's Garden of Verse.

When his father died in 1887, Stevenson felt free to follow the advice of his doctors to try a complete change of climate.
The family spent time in the United States but in June 1888 Stevenson chartered a yacht and they set sail from San Francisco.
The sea air and the thrill of adventure restored Stevenson's health for a while and for nearly three years he wandered the Pacific Ocean, spending time in Hawaii, the Gilbert Islands, Tahiti, New Zealand and Samoa.




<<< Robert Louis Stevenson in 1890, aged 39



Life in Samoa
In 1890 Stevenson bought land on Upolu, one of the Samoan islands and built a large house near the village of Vailima.
The Samoan climate and lifestyle suited Stevenson and he continued to write, keeping to a strict schedule.
Apart from Robert Louis Stevenson and his wife, the household included Fanny's daughter Belle (Isobel) Strong and her husband and son, Fanny's son Lloyd Osbourne and various other friends and relatives who came for extended visits. The family was very close, with Belle acting as Stevenson's secretary while Lloyd collaborated with him on some of his writing.
Robert and Fanny were on friendly terms with some of the colonial leaders and their families and also helped the Samoans in many ways. The Samoans grew to love him, calling him 'Tusitala' (Samoan for 'storyteller') and often consulting him for advice.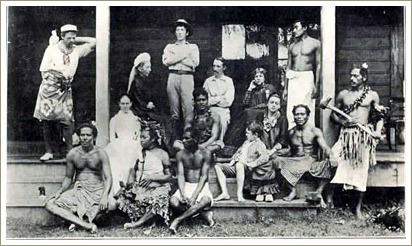 Robert Louis Stevenson with his family and household on the verandah at Vailima, 11 May 1892.
In the back row are Joe Strong (husband of Belle, Robert's stepdaughter) with a parrot on his shoulder, Margaret Stevenson (Robert's mother), Lloyd Osbourne (Robert's stepson), Robert Louis Stevenson, Fanny Stevenson and Simi the butler.
In front of them sit Elena the laundress, Taloja the cook, Belle (Isobel, Robert's stepdaughter) and Austin Strong (Belle's son), Lafaele the cattleman and Tomasi the assistant cook.
At the front are Savea the plantation boy, Arrick the pantryman and another boy.
Illness
Robert Louis Stevenson suffered from ill health all his life and was always painfully thin.
During his lifetime doctors believed he was suffering from Tuberculosis but today it's thought that he had Bronchiectasis or perhaps Sarcoidosis.
Both are serious lung conditions which even today are difficult to treat.


Death
Robert Louis Stevenson died suddenly on the evening of 3 December 1894.
He'd worked on his writing as usual during the day and collapsed, probably from a brain hemorrhage, while opening a bottle of wine and talking to his wife.
The Samoans loved Stevenson and insisted on surrounding his body with a watch-guard during the night. The next day they carried him on their shoulders to nearby Mount Vaea, where he'd asked to be buried.
They buried him on a spot overlooking the sea which you can still visit today.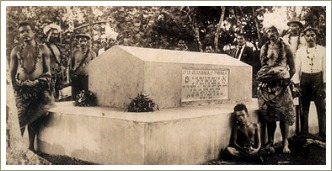 Stevenson's grave soon after his death
After her husband died, Fanny returned to the United States where she died in 1914. Her ashes were brought back to Samoa and interred with her husband.
The Stevenson's home, which is near the Samoan capital Apia, is now a museum and is open to the public five days a week.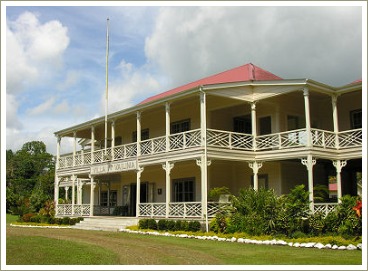 Stevenson's house in Samoa is now a museum
'Requiem'
Fourteen years earlier, when he was very ill in California, Stevenson had composed his own epitaph which he called 'Requiem'.
It's inscribed on his tomb and the last two lines are often quoted:
'Under the wide and starry sky,
Dig the grave and let me lie.
Glad did I live and gladly die,
And I laid me down with a will.

This be the verse you grave for me:
Here he lies where he longed to be;
Home is the sailor, home from sea,
And the hunter home from the hill.'
A recent photo of Stevenson's grave


home >>> Robert Louis Stevenson >>> Robert Louis Stevenson biography