Roald Dahl Biography
On this page you'll find a short Roald Dahl biography. 

Roald Dahl wrote many books for both children and adults but it's his children's books which made him famous and for which we all remember him.

I've always been interested in reading about authors and their backgrounds because I like to try and work out what inspired them to write the stories they did.

Dahl didn't write your usual, run-of-the-mill stories.
Both his books for adults and his children's books are quirky and very often quite dark and even a bit weird so I wondered what was behind them.
Some of the answers became clear the first time I read Roald Dahl's wonderful two-part autobiography 'Boy' and 'Going Solo'. 

I absolutely loved these books and most of the information on these pages comes from them.
Roald Dahl led an adventurous life and the books are great!
I highly recommend them for adults and teenagers but they also make good books to read aloud to older children. Try them with kids aged from about ten up. 
Early Years
Roald Dahl was born on 13 September 1916 in Llandaff in Cardiff. His father, Harald, had moved from Norway to Wales in the 1880s and his mother, Sofie, travelled to Wales in 1911 to marry him.
Dahl was named after the polar explorer Roald Amundsen, who was a national hero in Norway at the time.

Young Roald had three sisters, Astri, Alfhild and Else.

In 1920, Roald's sister Astri died of appendicitis and shortly afterwards his father died of pneumonia.

Sofie Dahl considered taking her children back to Norway but in the end decided to stay in Wales so her children could go to English schools as her husband had wanted.
Roald went to school in Llandaff and then later to boarding school in England. He was miserable at school but spent his summer holidays with his mother's family in Norway which he loved.
At school, Dahl wasn't seen as a particularly good writer but he was a very good sportsman, playing squash and rugby. 
Work and the War
After finishing school, Roald joined the Shell Petroleum Company in 1934 and spent two years being trained in the UK. He was then transferred to Mombasa in Kenya and later to Dar-es-Salaam in Tanganyika (now Tanzania).
Roald Dahl was 23 when World War II broke out and he signed up as a trainee pilot with the Royal Air Force in Nairobi. His experiences during the War are described in his book Going Solo, which is a great read, even if you're not usually keen on war stories.
Dahl was eventually sent home to England as an invalid but in 1942 he was sent to Washington as an air attache. There he met an English author called C S Forester who asked him to write an article about his wartime experiences for a newspaper. Forester was impressed with Dahl's writing and this was really the start of his writing career. 
Early Writing
Most people think that Roald Dahl's first children's book was James and the Giant Peach but in fact his first book was a picture book called The Gremlins. 

The Gremlins had actually begun life as a script written at the request of Walt Disney, although the idea of making the film was eventually abandoned. The book was published and, although Dahl never liked it very much, it caught the eye of Eleanor Roosevelt who invited him to the White House and to the family's weekend retreat.
From 1943 until the 1960s, Dahl concentrated on writing for adults, with a particular focus on short stories with a twist in the tail. I read many of these stories in the 1980s and have to say that some of them are very weird and even a bit macabre, although really brilliant.
His stories were originally published in magazines like The New Yorker before being published in book form. A book called Kiss Kiss was my favourite.
Many of Dahl's stories were made into a very popular TV series called Tales of the Unexpected. 
Children's Author
Roald Dahl said that he was more proud of his children's books than of the stories he wrote for adults but he also said that writing for children was much harder than writing for grown-ups. He said: "It's tougher to keep a child interested because a child doesn't have the concentration of an adult."
Dahl first became interested in writing for children when he started to make up bedtime stories for his daughters, Tessa and Olivia. This is how he came to write James and the Giant Peach which was published in 1961.

His second book, Charlie and the Chocolate Factory was published in 1964 in the US and in 1967 in the UK and was a huge success in both.
The book was translated into a number of languages and was popular throughout the world. It was first made into a movie in 1971 and, although Dahl himself wasn't a fan of the movie, it did very well.
A series of popular books followed before Matilda, his second-last novel broke all UK publishing records for children's fiction by selling half a million paperback copies in six months. 
Family Life
Roald Dahl married Patricia Neal, an American actress in 1953 and they divided their time between England and America. The couple had five children together: Olivia, Tessa, Ophelia, Theo and Lucy.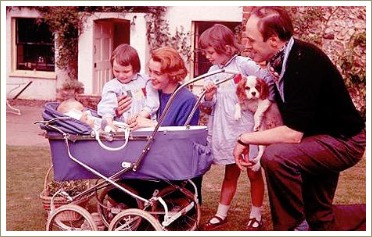 Roald Dahl and his wife, Patricia Neal, with baby 
Theo and daughters Tessa (left) and Olivia in 1960
Sadly, Olivia died when she was seven from complications associated with measles and Theo was involved in an accident as a baby and suffered brain damage.
Dahl drew his inspiration to write from his children, making up stories to tell them at bedtime. 
In 1960 the family moved to a house in Great Missenden in Buckinghamshire where Dahl set up a shed in the garden as a writing studio.

He couldn't type and always used a pencil to write his stories.

Roald and Patricia divorced and in 1983 Roald married Felicity "Liccy" Crosland.

In 1990 Dahl was diagnosed with a rare blood disorder, Myelo-dysplastic anaemia.
He died on 23 November 1990 at the age of 74 and is buried in the churchyard of St Peter and St Paul Church in Great Missenden in Buckinghamshire.
home >>> Roald Dahl >>>Roald Dahl biography