Create A Reading Spot
Does your child have a special reading spot?
Making sure kids have a quiet, comfortable spot to settle down with a book is important if you're keen to raise a reader. Many households are busy places these days and it can be hard for kids to find a quiet spot away from all the hustle and bustle to simply sit and read for a while. Add electronic games, computers and the TV into the mix and often reading just doesn't happen.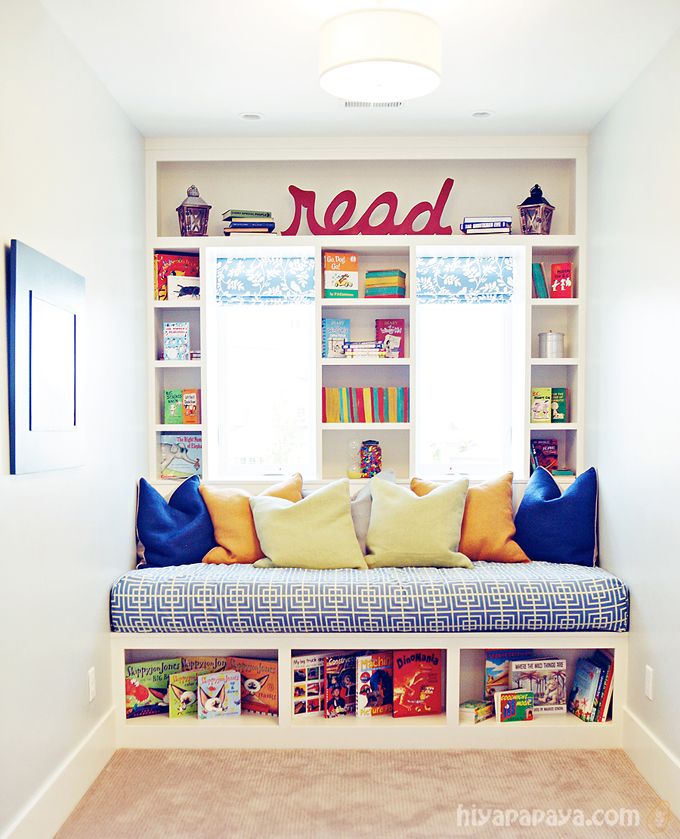 A rug or a carpeted spot with good lighting, somewhere to store the books and either a comfortable sofa or some big, squashy floor cushions can go a long way towards encouraging reading.
So, if you want to encourage the reading habit, why not have a think about how you can create a special reading spot in your home?
If your child is young, this can be a special reading aloud spot. If he's older, he may like to help you get it set up so he feels it's his own special place. The gorgeous reading spot in the picture above is a great example of what can be done with a bit of time and thought.
It's lovely for kids to have a quiet spot like this to retreat to, not only when they want to read but also when they're tired or upset or just need time away from a sibling.
A reading spot doesn't have to be fancy though, or even permanent. Children, even when they're very small, love making cubbies and these can be great spots to snuggle down in with a collection of books, even if it's just for the afternoon.

Reading Spot Essentials
If you're keen to design a reading spot for your child, here's a checklist of the things you'll need to think about: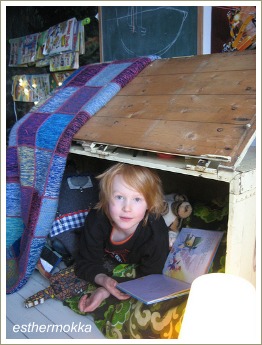 a spot that's not too cold or too hot and/or has adequate heating or cooling, depending on where you live;


a spot that's fairly quiet and a little away from the hustle and bustle of family life;


something comfortable to sit on. A squashy sofa or armchair or a pile of cushions is great;


good lighting. If you're using a lamp, remember that lamps get hot so make sure it's placed somewhere safe where it won't fall over and where your child won't brush up against it;


somewhere to keep the books! If possible, the books should be stored with the covers facing outwards so it's easy to see what's there;


Reading Spot Inspiration
Need some ideas about how to create a reading spot at your place? Check out these great reading spots and nooks for inspiration!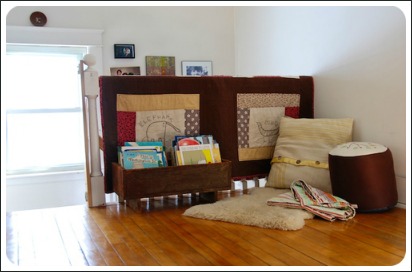 This compact reading spot makes good use of the space on a landing at the top of the stairs. The colour scheme ties in with the neutral colour scheme of the house and there's a comfy rug, pillow and blanket for snuggling up. And the books are stored facing outwards so it's easy to flick through them!

This colourful reading spot is actually a corner of a young child's bedroom.

A comfy chair doubles as a great spot for feeding baby and for reading aloud and, again, a pillow and a throw-rug are ready for snuggles if the weather's a bit chilly. The books look great displayed on rain gutter shelves, although they are a little high for little people to reach. Try to have shelves low enough for your child to reach on his or her own, even if he or she is still crawling. It's messier but better for encouraging reading! 

As the small owner of this room grows bigger, the chair is big enough for two to enjoy cosy read-alouds and the window seat will also be a wonderful reading spot for the child as he grows.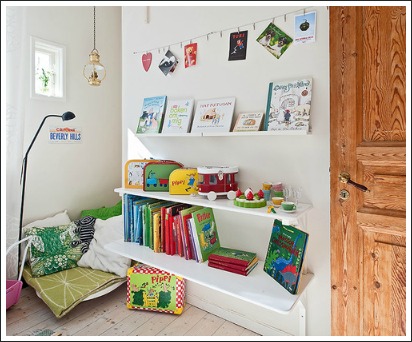 I really love this light-n-bright reading spot. Note the child-height bookshelves, cushions and great reading lights. This spot is tiny but it shows what you can do with a small space, a few shelves and some imagination.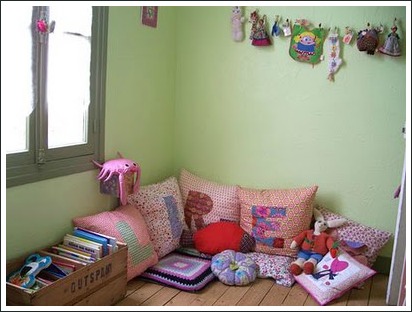 I really love the floor cushions in this reading spot. They're hand-made and the letters spell out the word lire which is the French word for read. You could do the same thing in French or in English or in any other language you like. You could also spell out your child's name or use your children's initials. Lots of possibilities!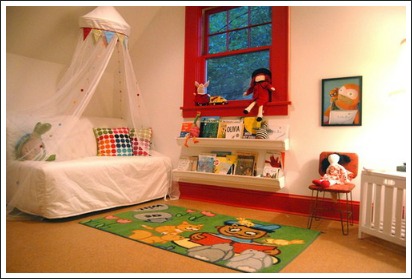 This reading spot shows how bookshelves that are often called 'rain gutter shelves' can be used to display books. Stored this way, the book covers will catch your little one's eye and encourage him or her to pick one up and 'read' it - or ask you to! Note the mosquito-net reading tent!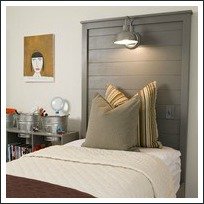 A half-hour or hour of reading time before lights-out can be a very special time for kids so it's a habit worth creating when your children are small. As well as helping them become good readers, it's a great way of helping kids relax before it's time to go to sleep. The picture on the right is a great example of how to create a wonderful reading spot for children of any age but especially older children to encourage or maintain n evening reading habit. Note the great reading light, well-positioned above the bed. This is a must for bedtime reading. 



This reading spot occupies part of a baby's bedroom. Note the lovely old armchair, ottoman and the books displayed on rain-gutter book shelves. Although the top shelves are too high for a little person to reach, the books do look wonderful and could easily be rotated by mum or dad so the top ones don't languish unread. I also love that there are lots and lots of books!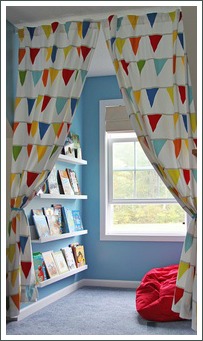 If you have the space, creating a special reading spot like the one on the left would be a fantastic project. I love the rain-gutter shelves, bright colour scheme, terrific natural light and the fact that there's plenty of uncluttered floor space for sprawling with a good book.

Oh, and check out the curtains! Even if you're not great with a sewing machine, these would be very easy to make or you could buy some cheap ones at Ikea.
What child wouldn't love the fun of hiding away behind the curtains for some quiet time with a favourite book?