Goodnight Moon

Goodnight Moon is a classic going-to-bed story for babies and young children written by American author Margaret Wise Brown.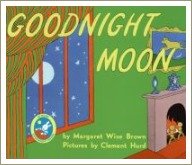 The story is about a bunny's bedtime routine of saying goodnight to everything around him: the red balloon, the bunny's dollhouse, the moon, the man in the moon and so on.
Like most books for young children, it's written in simple rhyme, with lots of repetition which babies and toddlers love.
Goodnight Moon: The Story
At first glance, Goodnight Moon perhaps doesn't look like a particularly special book. In fact, many parents think the illustrations by Clement Hurd look old-fashioned and even a bit dull.

But start reading it to your little one and the appeal of the book quickly becomes apparent.
For very young babies especially, the immediate appeal is the soothing rhythm of the text. The words seems to gently and quietly calm both the child and the adult reading, setting a lovely tone for going to bed. As your child gets older, he or she will also enjoy pointing out the familiar objects in the pictures and the reassuring ritual of saying goodnight to them before he says goodnight to mum and dad.
The illustrations in Goodnight Moon are simple but quite detailed which is fun for slightly older children (from about two up). Drawing their attention to things like the moon rising in the window and the time on the clock changing helps develop their powers of observation. 
Goodnight Moon: The Book
Goodnight Moon was written in 1947 by American author Margaret Wise Brown and was a classic bed-time story in North America for many years before it became popular in Australia.
It wasn't an overnight success though. In 1953 it sold about 1,500 copies but by 1970 sales had grown to 20,000.
The book has been translated into a number of languages and in 1990 sold more than 4 million copies around the world. 
About Margaret Wise Brown
Margaret Wise Brown was born on 23 May 1910 in Brooklyn, New York and was the middle of three children.
After completing high school, she studied English literature at college and went on to work as a teacher at the Bank Street Experimental School in New York City.
Margaret Wise Brown's first book for children, When the Wind Blew, was published in 1937 while she was still teaching. She went on to work as an editor at a publishing house and in total wrote well over 100 books for children.
Before Margaret Wise Brown - known as "Brownie" to her friends - began writing, most books for young children were fairy tales and fables about animals. But Brownie had a sense that children would rather read about their own lives and tested this then very new idea at the school where she taught. She encouraged children to swap stories with her and talked to them about what they wanted to read and their fears and hopes. She also brought illustrators into kindergarten classes to draw in front of the children so she could get a feel for the accuracy small minds require.
In her personal life, Brown had a ten-year relationship with an older woman who died in 1950. In 1952 she met James Stillman Rockefeller Jr at a party and they became engaged. Later that year she had emergency surgery for an ovarian cyst, recovered well but two weeks later died unexpectedly of an embolism while on a book tour in Nice. Brown's ashes were scattered at her home in Vinalhaven in Maine. 
You can read more about Margaret Wise Brown and her books here. 

You can also listen to Susan Sarandon reading Goodnight Moon on YouTube here.