Autobiography Books For Teens
Autobiography books and biographies can be a good choice for teens who aren't keen on reading, especially boys.
Try the autobiography or biography of a favourite sportsman, like the ones on this page or think about your teen's interests and check out the Book Depository to find a book he or she might like.
There are biographies and autobiographies about sportsmen and women, ballerinas, actors, singers, business people, adventurers, doctors and writers.
In fact, whoever your teen admires, there's sure to be a book to catch his or her interest. The trick is to find it! 
And it is important that you try to persevere in your efforts to get your teen reading. It's really important for teens to read, both for their success at school and for the life lessons readers learn.
Of course you can't force kids to read but there are sneaky things you can do to encourage them!
If you need some ideas, you may like to have a look at my tips on how to raise a reader. 

And don't discount reading aloud to teens either. Believe it or not, it can be done and there are benefits. It can even be fun, although you'll probably have trouble convincing your kids of this. Do give it a try, though. It's worth it.
All the books on this page are available as e-books for the Amazon Kindle. Kids - especially teens - love the electronic devices so, if you're keen to get (or keep) your teen reading, you may want to think about investing in an Amazon Kindle or something similar. My teens love their Kindles!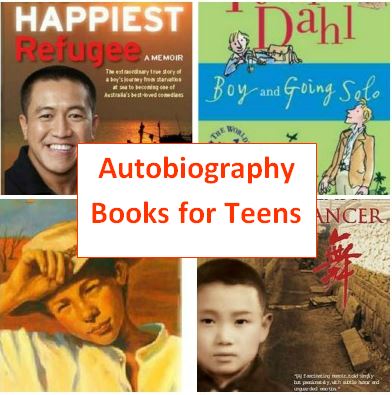 ---
My daughter studied this book at school in Year 7 and my sons also enjoyed reading it.
Since the book was made into a movie in 2010, many people have come to know Li's story but the book's amazing so it's worth getting hold of a copy and suggesting it to your teen.
Li Cunxin was the sixth of seven sons born to peasant farmers in Qingdao. The family was so poor that they sometimes had nothing to eat but tree bark. Li's parents loved their children and instilled the values of determination, perseverance, vision, courage and hard work in their boys.
But Li's future looked bleak until the day a delegation from Madame Mao's Beijing Dance Academy arrived at Li's commune school to find suitable children to study ballet and serve in Chairman Mao's revolution.
Li's incredible determination, resilience, perseverance and vision led to him becoming one of the best dancers China has produced. He eventually defected to the US, married an Australian dancer and now lives in Melbourne with his wife and three children.
Mao's Last Dancer is available in an adult version and also in this slightly modified version for younger readers.
Cadel Evans is the Australian cyclist who won the Tour de France in 2011. He's admired for the extraordinary perseverance and determination to succeed which saw him move up through the ranks of competitors, from finishing fifth in 2006 and second in 2007 to his win in 2011.
This book will appeal especially to teens who love their sport. They'll learn about the physical and psychological challenges an athlete faces in his quest to be the best and will be fascinated by the behind-the-scenes look at the Tour de France - the teams, the climbs, the politics and the opponents. 
This simple, short book is an Australian classic and one of the few books I think every Australian kid should read.
It's the story of Albert Facey, a young man who was born into an extremely poor family in rural Victoria in 1894 and who, due to family problems and poverty, basically had to make his own way in life from the age of eight. 
Bert was never able to attend school but as a teenager he taught himself to read and write. He fought at Gallipoli and was wounded, was happily married for nearly 60 years and had seven children.
Facey began making notes on his life at the urging of his wife and children and eventually had the notes printed into a book for his family to read. He completed his memoirs on his 83rd birthday in 1977 and it was published in 1981, nine months before his death.
A Fortunate Life is written in a very matter-of-fact, non-dramatic tone which is part of its appeal, for me at least.
The events Bert Facey describes are sometimes horrific, sometimes incredibly sad and sometimes very funny but he tells his tale with no self-pity or self-importance at all so you can't help but like and admire him. This is not great literature by any means but I re-read the book recently and it's still, even after all these years, a real page-turner.
Oh, and the title comes from the fact that, after a life that many would regard as incredibly hard and sad, Bert Facey always said that his had been a fortunate life. 
Anh Do is an Australian comedian who came to Australia in 1980 as a 2-year-old.
His parents risked everything to escape Vietnam on a 9-metre fishing boat with 40 Vietnamese refugees crammed together in appalling conditions. One person died on the voyage, the boat was attacked by pirates and Anh nearly died from dehydration.
The story of the family's voyage to Australia and the hardship they faced when they arrived is inspiring as well as hilarious at times. Anh tells his story with no self-pity and huge doses of humour (mostly at his own expense!) which makes this book inspiring but also great fun to read.
This is not great literature but it is a real page-turner and very easy to read. Teens will learn a lot about what's possible in life with perseverance, hard work and a positive outlook.
For example, Anh won at part-scholarship to an expensive private school in Sydney but his mother couldn't afford to buy the textbooks he needed. Had the school known, they would have given him the books for free but Anh and his mother didn't know this and Anh got through - and did exceptionally well at school - by sharing his mate's books.
I hassled my sons into reading this book and they ended up really enjoying it. 
There's now also a picture-book version of Anh's story which you can see on the right. Scroll up to have a look at it.
Roald Dahl, the author of books like Charlie and the Chocolate Factory and Matilda, was born in 1916 in Wales to Norwegian parents.
He went to boarding school in England and spent his holidays in Norway with his grandparents. Years later he wrote his autobiography - Boy: Tales of Childhood - about his adventures with his sisters as a child in Norway and his experiences at school in England.
During World War II Dahl was a fighter pilot with the Royal Air Force and had many adventures, including crashing his plane behind enemy lines in Egypt. He wrote about these years in the second book of his autobiography Going Solo. 
The books are available individually or both together in one, larger book.
You can see the covers to the right. Click on the images if you'd like more info about the books.
Again, I had to convince my sons that these would be good to read but they did read them and really enjoyed them. 
Dr Ben Carson is Director of Pediatric Neurosurgery at Johns Hopkins Hospital in Baltimore in the US.
He grew up in a very poor, single-parent family and, as a kid, had a violent temper and was doing very badly at school. 
In Gifted Hands Ben tells the story of his childhood and how his mother helped him to turn things around and make a success of his life, in spite of the many hurdles and set-backs he faced along the way. It's a good story for kids to hear and it certainly shows that anything's possible with faith, hard work and a bit of a plan about where you want to go in life.
There are two versions of Gifted Hands. 
The one shown here is the original book. On the right (you may have to scroll up a bit) you'll see the one written especially for kids.
I'd suggest the adult version for kids aged from about fifteen up but you could also try reading it aloud to kids from about 12 up. The kids' version is suitable for children aged from about ten up to read on their own but it's also a great book to read aloud to kids aged from about five up.