List of Dr Seuss Books

On this page you'll find a complete list of Dr Seuss books listed in the order in which they were originally published.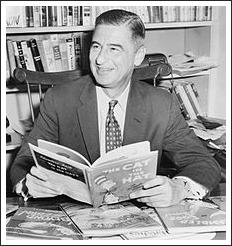 These are the 44 books which were both written and illustrated by Dr Seuss himself.
Dr Seuss books are great fun to share with your child and, as a bonus, they'll also help him develop something called phonological awareness, a critical skill for learning to read later on.
Most book shops and libraries will have at least a few of the books on this list but if you'd like to buy one, my favourite place to buy books these days is the Book Depository,

I've always found the prices at the
Book Depository
much cheaper than any other book shop or online retailer and, best of all, postage is free!
If you're keen to introduce your children to the fun of Dr Seuss books, you can print a copy of this list to take with you to the bookshop or library.
If you'd like to know which books are best for your child, have a look at my list of Dr Seuss books by recommended reading age.



A lovely lady who worked in our local chemist shop gave these books to my boys when they were about 10 months old.
The boys were in their stroller looking pretty cute one day and she came over to chat to us all. These are mini-versions of two of Dr Seuss's most popular books which had been given to her to pass on to customers as gifts-with-purchase.
The boys loved these books and, as you can see, we read and re-read them many times over!
You might read elsewhere that
Dr Seuss
wrote more books than the ones on this list. That's true but the other books he wrote were illustrated by other people.
I'll get around to listing those later!


home >>> Dr Seuss books >>> list of Dr Seuss books