Nursery Rhyme List
This nursery rhyme list includes the best-known and most popular nursery rhymes for children.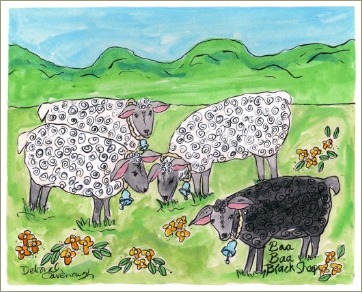 You may find the list helpful if you're having trouble remembering the words to a particular nursery rhyme.
Click on the links to read the nursery rhymes and to learn a bit about their origins and history.
The history of nursery rhymes is actually quite fascinating.
Some of the rhymes are believed to be hundreds of years old and were passed down orally from parents to their children for many, many years before anyone thought to write them down.
Over the years, new variations appeared which means it's sometimes quite hard to trace the original rhyme and to work out where and when it originated.
If you're interested in reading more about nursery rhymes and their origins, I highly recommend Iona and Peter Opie's book The Oxford Dictionary of Nursery Rhymes. 
Nursery Rhyme List
Baa Baa Black Sheep 

Goosey Goosey Gander 

The Grand Old Duke of York 

Hey Diddle Diddle 

Hickory Dickory Dock 

Hot Crossed Buns 

Humpty Dumpty 

Hush A Bye Baby 

Jack and Jill 

Little Bo-Peep 

Little Boy Blue 

Mary Had A Little Lamb 

Mary, Mary Quite Contrary 

Old King Cole 

Old Mother Hubbard 

London Bridge 

One, Two, Three, Four, Five (Once I caught A Fish Alive) 

Oranges and Lemons 

Polly Put the Kettle On 

Pop Goes the Weasel 

Ring Around the Rosie 

Sing A Song of Sixpence 

There Was An Old Lady Who Swallowed A Fly 

Three Blind Mice 

Tom Tom The Piper's Son 

Twinkle Twinkle Little Star 
home >>> poems for children >>> nursery rhyme list