Parenting Teenagers
Parenting teenagers today can be a real challenge!
I remember a friend with older children telling me - in the crazy years when my twin sons were about two - how tough she was finding the teenage years.
"Parenting teenagers is hard!" she said.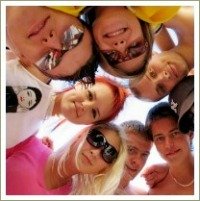 How could anything be harder than this? I thought, watching my twin two-year-old tornandos charge around the room.
Well, my friend was right, of course. I guess parenting changes from being more physically challenging to being more mentally challenging as our children grow.
Teenagers - especially teenage girls (and even pre-teen girls) - now look and sound so confident, are so at home with our sophisticated technology and appear so sexually aware that we are in danger of forgetting that they are still works in progress.
It's all too easy for us as parents with our busy lives to be lulled into believing they don't need us anymore.
In fact, nothing could be further from the truth.
The apparent worldliness and self-confidence many teens show to the world hides young people who still have very little experience of the world and who desperately need our guidance to navigate the difficult path from childhood to adulthood.
My husband laughs (and shakes his head alot!) over my tendency to buy a new book whenever we face a new parenting challenge but he does agree that some of the books I've found about parenting teenagers have been the source of some great advice.
Most of the books on this page will be available in your local library or at a bookshop near you.
You can also buy them online - with free postage - from the Book Depository.


Peacefully Parenting Teenagers

I revised all my parenting pages in 2014 when I discovered an approach to parenting which basically knocks all others out of the water, in my opinion.
It's called "Peaceful Parenting" and it's an approach which emphasizes gentle and respectful ways of relating to babies, children and teenagers. In some ways it's a bit new, although there have always been parents who have parented this way, simply because it made sense to them and they had probably been parented this way themselves.
On this page you'll find my review of the very best peaceful parenting books.You may also like to check out two websites which provide many free resources related to PP, as it's called. They are really, REALLY worth investigating:
Whatever age your children are, I would suggest beginning with PP books. Speaking from experience, it's amazing how quickly our relationship with our child and their behaviour can change for the better once we ditch the judgment and efforts to control them and focus on love and connection. 
---
Surviving Adolescents
Michael Carr-Gregg is a psychologist based in Melbourne who has a special interest in the issues affecting teenagers today. He also speaks to parents about the challenges of parenting teenagers and I've found his insights and advice very helpful.
This book is brief and to-the-point and you can read the whole thing in an hour or so.

The book begins by explaining what's going on in your teenager's brain at each stage of their development then moves on to issues such as sleep, driving, lying and communication, as well as sex, drugs and depression.
Written with humour, hope and heaps of good advice, I really think this is a must-have for parents of teenagers and children about to become teenagers.

---
Too Safe for their Own Good:
How Risk and Responsibility Help Teens Thrive
This book offers a very interesting perspective. Its central point is that children and teenagers have a strong need to feel that they are competent, capable contributors to their society and that they will do what they have to to achieve this.

Michael Ungar believes feels that this involves a certain amount of healthy risk-taking. His research into resilience in particular has led him to believe that, by almost totally eliminating risk from our children's lives, we are removing their ability to develop the resilience necessary for them to develop into capable, competent adults.
A fabulous and very thought-provoking book.

---
Surviving the Terrible Teens:
How to Have A Teenager and Stay Sane
I picked this book up at the library. I hadn't heard of the authors and frankly I thought it wouldn't make it onto the list, mainly because I hate the title.
I was wrong. This is actually a great book, written in an easy-going style by three UK psychologists. The book includes survey results, strategies and anecdotes.
Bits of this book I especially liked - and haven't found in other books - include a section on helping your teen to become more assertive and one on working out whether you may be unintentionally contributing to your child's low self-esteem - confronting but useful.
The chapter headings are:
Who is this creature I've spawned?
Helping your teen become their own person
How to talk when they only grunt
Tears and tantrums
School days – happiest days of their lives?
Bullies and the bullied
Sex, lies and puberty
Family relationships
9/11 and other worries and fears
Drugs, eating disorders and other worries that keep you awake at night
---
Teen Stages
This book is very much about how to guide the journey to adulthood. I like the fact that it has loads of really practical advice and strategies that you can use now.
The authors breaks down the teen years year by year, with sections about what you can expect from 15 year olds, then 16 year olds, and so on. It discusses what developmental tasks they're working through and how to help.
Just knowing which stage your child is at can be very helpful. Knowledge is power and knowing this information can help you relax because you know it won't last forever.
This is really, really helpful stuff.

---
Surviving Year 12
I discovered this book when my twin sons were in Year 11 which, in the state of New South Wales in Australia, is the second-last year of high school.
It's a great book and I definitely think it's worth reading when your child is in Year 10 simply because I believe in staying one step ahead of the game, the game in this case being your child's development. Fore-warned is fore-armed, as they say!
Having said that, this book is written for students, rather than their parents. It has sections on relaxation, stress, managing your time and thinking about what you want to do after your final exams, all written in Michael Carr-Gregg's straightforward, easy-to-read style.
Even if you live in a country other than Australia (or in another state), this book has some helpful tips.

---
The 7 Habits of Highly Effective Teens
If you've read The 7 Habits of Highly Effective People (written by Sean Covey's dad, Stephen Covey) you'll be familiar with the basic ideas in this book.
It's not really a book about parenting teenagers, more a hand-book for teens to help them start thinking about what they want out of life.
Sean Covey writes in an easy-to-read, non-preachy style which I really enjoyed. One of my 15 year-old sons is currently reading this book which I think is suitable for teenagers from about 14 up, though it's probably aimed more at older teens.
An inspiring, encouraging book with loads of good ideas.

---
Adolescence: A Guide for Parents
This book seems to me to be a longer, earlier version of Michael's book Surviving Adolescents.

It incorporates more detail and lots of anecdotes which I really loved. There is also a Frequently Asked Questions section which, again, I found very useful.
I guess when you're confused about what to do as a parent, it's helpful to know what's normal. It may not help you deal with the situation but it can help you relax a bit if you know other people have been there before you and survived.
As with all Michael Carr-Gregg's books, this one about parenting adolescents is easy to read, has lots of great ideas and is served up with a liberal does of humour, essential when you're a parent!
Chapter headings include:
Early Adolescence - 'Am I normal?'
Middle Adolescence - 'Who am I?'
Late Adolescence - 'What is my place in the world?'
The Tasks of Adolescence
The Ideal Environment for Raising an Adolescent
---
How to Talk So Teens Will Listen & Listen So Teens Will Talk
Adele Faber and Elaine Mazlish have written a number of parenting books and all of them are really worth getting hold of.
This one is about parenting teenagers and deals with the real problems of communication between teens and their parents. It offers really solid, practical ideas for dealing with a variety of scenarios.
Here are the chapter headings:
Dealing with Feelings
We're Still 'Making Sure'
To Punish or Not to Punish
Working It Out Together
Meeting the Kids
About Feelings, Friends and Family
Parents and Teens Together
Dealing with Sex and Drugs
The book is written in a straightforward, easy-to-read style which I found very helpful.

Looking for advice about a particular parenting problem? Check out my page about specific parenting issues.


home >>> parenting books >>> parenting teenagers