Play School
Play School is a wonderful Australian television program for pre-school children.
It's one of the best children's TV shows ever made, has been going strong for over forty years now and is quite simply a part of most Australians' childhood.
So why, you may ask, am I writing about a television show on a website about reading?
I think Play School contains a lot of tips about how we can weave the stories we read to our pre-schoolers in with some fun activities to maximize the fun and learning.
To understand how this works, let's think about what learning is and how we do it.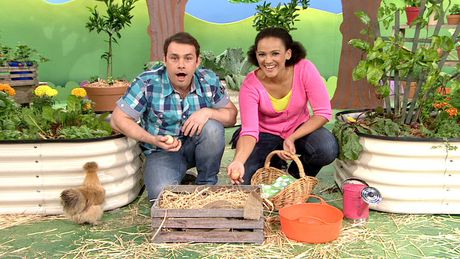 Some of the much-loved Play School toys
Play School, Reading & Learning
One definition of learning comes from my education studies at university:
Learning is taking in new information and adding it to what you already know to deepen and extend your knowledge and understanding about a particular subject.
Based on this, each Play School episode is carefully put together by early childhood specialists to build children's knowledge about the world in which they live.
The format of each episode is consistent and centres around the development of a theme.
A story is read by one of the presenters and activities and songs are carefully chosen to fit with the theme and to encourage children to wonder, to think, to feel and to imagine.
This enables them to make connections between the various elements of each episode which is how neural pathways are consolidated and strengthened in the brain.

An episode called Play School Meets the Orchestra. is a brilliant example of the way the program combines stories, music and visits to places children might not otherwise be able to experience to build their knowledge of the world around them.
In Play School Meets the Orchestra, the presenters (Benita, George and Trisha) have lots of fun with the Sydney Symphony Orchestra singing songs and making music. The orchestra even plays the Bananas in Pyjamas theme which is absolutely brilliant!
The story Trisha reads is about an orchestra conductor called Orlando. It's a lovely story with gorgeous illustrations and it builds on what the kids have learned so far about the orchestra, the musicians and the instruments.
Here's a YouTube clip of part of the episode:



Using the Play School Idea at Home
You can take a leaf out of Play School's book when it comes to building and consolidating background knowledge. The key is to pick up the same theme in a few different activities you do with your children.
For example, if you're planning a visit to the zoo with your pre-schooler you could:
start by reading a book like Dear Zoo and talking about the animals;

visit the library together and get lots of other books about animals;
buy some cheap plastic animals for your child to play with;
watch a DVD or TV program about animals;
have a craft and art session where you make an animal collage or simply draw or paint animals;


home >>>phonological awareness >>> Play School

home >>> children and TV >>> Play School