Choosing Read Aloud Books
What Makes The Best Read Aloud Books?

The best read-aloud books are the ones that delight both you and your child.
If a book bores you - if it doesn't capture your interest at all - you can be pretty sure your child's going to find it boring too!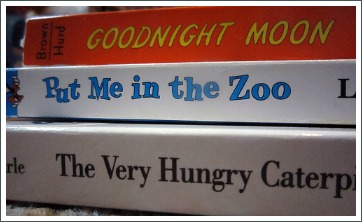 Not only that, he or she will pretty quickly realise that you aren't having fun reading and may decide reading is a boring chore, rather than the magical, enjoyable experience it can be.
On the other hand, a great read-aloud book will be fun for you to read, even if you're reading it for the hundredth time!
If it's a picture book, the illustrations will be full of wonderful detail that make them fantastic to look at together. In any case, the story will be captivating and the language will be rich and imaginative.
There are many, many books for children available in book shops and libraries and it can be quite bewildering to look at them all and wonder which ones to choose, especially if you're a new parent or if you don't often buy books for children.
On this page, you'll find some general guidelines about choosing read-aloud books for different age groups plus some recommendations of the books I think are among the best books for each age group.


Choosing Read-Aloud Books
Let's start with the easy part. A lot depends on the age of the child:

Very young babies aren't all that interested in the words or pictures. They just like being cuddled up with mum or dad and listening to the sound of your voice.

Poems, nursery rhymes or books written in rhyme are fun to read at this age and it's good for your baby's overall development to hear this kind of language.


Older babies like brightly-coloured pictures and short, sturdy books they can handle and chew! They still like rhyme, repetition and rhythmic language so poems and nursery rhymes are still good choices.


Toddlers aged from 12 months to 3 years like all the above but are now more interested in the pictures and the story. Picture books about animals or children just like them are always popular with this age group.

Young children aged 3 to 5 years enjoy all the above but also tend to like fairy tales and slightly longer stories. They also love humour so Dr Seuss books are usually good choices.


Older children (yes, you can keep reading to kids after they've learned to read!) enjoy more complex, richer stories. Try books like The Hobbit and the Harry Potter books. Magic!
---

Return from Read Aloud Books to Reading to Children

Go from Read Aloud Books to Best Books for Kids home