Mother Goose Rhymes
Think nursery rhymes and you're probably thinking of Mother Goose rhymes.
Mother Goose rhymes have been a part of childhood for kids in English-speaking countries for more than 200 years.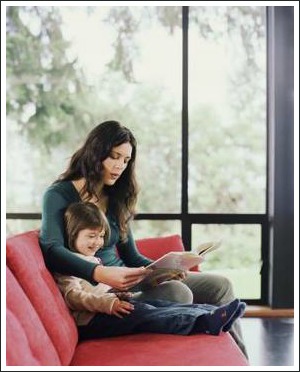 They're still great fun to share with babies and pre-schoolers but did you know that reading nursery rhymes to children also plays a really important part in laying the foundations for learning to read? 
The evidence on this is now very clear.
In a nutshell, hearing nursery rhymes and poems - complete with the actions and silly words! - is crucial in helping young children develop phonological awareness.
So what's phonological awareness?
Basically, phonological awareness is an awareness and understanding of sounds. It matters because it's a reliable predictor of a child's later reading ability [1].
Phonological awareness usually develops without anyone being aware of it as long as the child is exposed to nursery rhymes, poems and word games when he or she is young.
There is now strong evidence to show that children who have little or no exposure to nursery rhymes struggle to read and learn at school. 
On the other hand, children who are exposed to nursery rhymes are likely to learn to read naturally and easily and to become capable readers and students.
Amazing!
Choosing a Book of Mother Goose Rhymes
Over the years there have been literally hundreds of books of Mother Goose rhymes published, each one including its own selection of rhymes. 
Most books include old favourites like:
Little Bo-Peep
Little Boy Blue
Pat-a-Cake
Going to St Ives
Thirty Days Hath September
If Wishes Were Horses
To Market

Hush-a-Bye
Banbury Cross
Georgy Porgy
Wee Willie Winkie
See-Saw
Simple Simon
Three Blind Mice
A well-chosen book of Mother Goose rhymes is a fantastic addition to a new baby's personal library but how do you choose?
There are lots of versions to choose from so I've written brief reviews of my three favourites to help you choose. 
Each illustrator has used a different approach to illustrating the rhymes so each book has a different feel to it. Some of the illustrations are more modern, some are traditional. 
I think all of them are gorgeous. The one you choose is simply a matter of personal preference.
Mother Goose Rhymes
My Very First Mother Goose

Iona Opie is the acknowledged authority on all things Mother Goose and this hard-cover book is a winner.

Over 60 of the best Mother Goose rhymes are organised into four chapters of large, toddler-friendly type. 

The gorgeous water-colour illustrations and larger format of this 108-page book make it especially good for babies. 

It would make a great gift for a newborn or a wonderful first-birthday present. 
---
The Original Mother Goose

This hardcover book is a delight. It contains over 300 rhymes, including all the traditional rhymes plus a few of the rarer ones too. 

The illustrations and format are traditional, in keeping with the original rhymes.

The rhymes haven't been 'translated' into modern English so you may have to explain some of the old English words.

What a great opportunity to extend your child's vocabulary! 
---
Mother Goose Remembers

This is a well-chosen collection of traditional rhymes, poems and songs. 

It's a hardcover book, with 64 pages and a total of 46 rhymes and songs, plus a bonus sing-along CD.

All the old favourites are included and the illustrations are gorgeous - photos of hand-sewn designs, using antique fabrics, felt, beads, braids, lace, buttons, and bric-a-brac.

This is a great, inexpensive choice for a young child.
---
Favorite Nursery Rhymes

Another lovely collection, this time with illustrations by Scott Gustafson.

This is a hard-back book and contains 45 of the best-known rhymes, including Peter Piper, There Was a Crooked Man, Jack Be Nimble and Yankee Doodle.

Note that this book doesn't contain all the verses of every rhyme.

Having said that, it's quite good by way of an introduction to Mother Goose rhymes and is lovely to look at with a child.
---
References:
Opie, I; & Opie, P. (1997). The Oxford Dictionary of Nursery Rhymes. Oxford: Oxford University Press. 

Bryant, P.E; Bradley, L; Maclean, M; Crossland, J. (1989). Nursery Rhymes, Phonological Skills and Reading. Journal of Child Language, 16(2), 407-428.
[1] "There is a strong relation between early knowledge of nursery rhymes and success in reading and spelling over the next three years even after differences in social background, I.Q and the children's phonological skills at the start of the project are taken into account. This raises the question of how nursery rhymes have such an effect. Our answer is that knowledge of nursery rhymes enhances children's phonological sensitivity which in turn helps them to learn to read." (Bryant, Bradley, Maclean & Crossland, 1989).
home >>> poetry for children >>> Mother Goose Rhymes